Ashtanga means 'eight limbs' and refers to the eighfold path of Yoga originally laid out by Patanjali in the Yoga Sutra. The ashtanga method of asana (postural) Yoga is a dynamic form of Hatha yoga that combines set sequences of postures with connective movements, breath and physical locks (Bandhas.)
This style of yoga was introduced to the modern world by T. Krishnamacharya, who taught the method to K. Pattabhi Jois. Jois dedicated the rest of his life to teaching and spreading the benefits of ashtanga yoga. Ashtanga Yoga is a vigorous and energizing form of physical yoga that is informed by the philosophy and teachings of the Yoga sutra by Patanjali.
There is a strong tradition of Ashtanga at Derekthedog and we have been teaching this style of yoga in Exeter for over ten years. Ashtanga is taught here by three of the most experienced Ashtanga teachers in the south west: Andrea Durant, Fran Allen and John Evans. See our weekly schedule for details of classes and self-practice sessions.
If you are a beginner and want to learn the Ashtanga method we offer regular beginners courses. We also run ashtanga
courses
for improvers.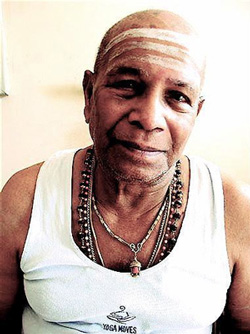 Ashtanga morning self-practice
If you are an experienced Ashtanga practitioner and want to practice with other commited ashtangis we have self-practice (untaught) sessions in the mornings. See our
schedule
for more info. John Evans is also teaching first and second series Ashtanga on Friday evening. See our
schedule
for more details.